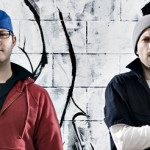 They were sick of asking permission.
And even if they had, Matt Hebermehl and "Dr. Z." James Zdaniewski aren't the kind of artists to take "no" for an answer. So, on Halloween night—the opening night of the Savannah Film Festival—armed with a 3000 Lumen Projector and DVD player, Hebermehl and Zdaniewski perched atop the State Street parking garage, opposite Savannah College of Art and Design's Jen Library. After scoping out different spots across the city, Hebermehl decided it was the perfect location for taking their artwork to the streets. They ran an extension cord from the garage's electrical outlets, through the stairwell, to their equipment. "We [acted like we] were just messing around," Hebermehl says.
Subsequently, what appeared alongside the Jen Library was a scrolling, fluid projection—an in-motion depiction of Hebermehl's signature organic illustrations. His art, which primarily concerns pattern, form and shape, translated perfectly into Zdaniewski's motion graphics. With light simulating paint, the large-scale projection gradually changed form and repeated, making Savannah's streets their personal art gallery and giving residents a chance to see their beloved buildings in a new light.
Recently the artists were able to show their talent once more when we asked them to create wall art for our April/May outdoor issue. Not only did we get a great behind the scenes of how they work but an amazing time lapse of the boys as their art came to life. Thanks to Meddin Studios, Chris Maddox and Tim Arnold for capturing it all!