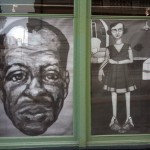 While "Fashion's Night Out" on Sept. 8 is an international event involving dozens of cities from New York to Seoul, some Savannah artists are doing the best they can to put a local imprint on it.
Local artist Matt Hebermehl is one of several collaborating with the Creative Coast Initiative to festoon the shop windows of participating merchants on Broughton and York streets with portraits of local characters.
Hebermehl, along with artists Jamie Bowerman, James "Dr. Z." Zdaniewski, and Creative Coast's Jake Hodesh, are involved in the "Savannah Windows" project, which is branching out to take advantage of the Fashion's Night Out event.
They were struck by the similarity between a shop window and a picture frame. Not exactly a profound discovery, you might say, but the difference is they acted on it. Hebermehl describes the backstory: READ MORE on Connect Savannah