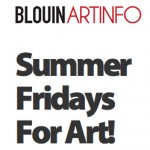 Summer Art Fridays: Artist James Zdaniewski
For our fifth weekly highlight in our Summer Fridays collaboration with ArtInfo, we chose the work of James Zdaniewski, whose drawing immediately reminded us of what it felt like to spring off a diving board and be suspended momentarily in the air. After checking in with Zdaniewski for the interview below, we found out that it was just that experience that inspired him to create the sketch, which will be turned into a mixed media collage.
Describe the piece you submitted to Summer Fridays.
I submitted the piece titled Six and Seven, a charcoal drawing. This is part of my next series of works inspired by the hype of the supposed Apocalypse coming in December 2012. Based on the idea of the seven seals that bring on the apocalypse, "Six and Seven" shows two children falling freely from the sky. From this drawing I will create a silkscreen to print the work on top of a base layer of acrylic and spray paint, currently in production, to finish the concept.
How does the piece relate to your memories of summer?
This reminds me of the innocence of jumping off a bridge or a dock into a lake, when you experience those few moments of letting go of your limbs and just accepting the feeling of weightlessness before you get baptized by the sudden smack into water.
Describe your process.
For this series, I'm approaching my process a little differently from my norm. I begin with lists and notes on ideas that turn into thumbnail compositions, and then a more solid sketch in preparation for a painting. With these I'm spending more time on the sketch concept, and adding the new base element layered into the final piece. I spend a few months on each painting in order to marinate in the process, so that I make wise choices with color and mark making.
How did you end up making art?
I always watched my older brothers draw and wanted to mimic that. I've drawn my entire life, which led me to graduate from an art school — Savannah College of Art and Design — and pursue my solo fine arts career. I studied animation, so I find inspiration in motion and ideas on time and space. I read a lot of quantum theory books, so a lot of crazy ideas and inspiration come out of that.
How has Tumblr helped you?
I use Tumblr as a sort of sketchbook to document my process and ideas. It allows me to continue to post images in-progress while keeping the finished pieces on my own portfolio site.
—See full article by Kyle Chayka here
In Good Company