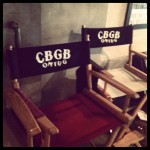 With biopic "CBGB" filming here through the end of the month, New York punk has become a temporary part of the city's scenery — from Louisville Road to Congress Street and even City Hall. But thanks to the creative efforts of several locals, Savannah will forever be a part of the Bowery rock club's wallpaper, too.
That final metaphor may be more literal than you think, says artist James "DrZ" Zdaniewski, who scored a preemo role in helping evoke the original CBGB look inside local Meddin Studios.
"I recreated graffiti, tags, layered posters and stickers from archived CBGB photos," he explains, noting he leveraged an old contact from Art Basel Miami to get stickers and posters original to the eras depicted in the film.
"Since they shoot out of order, they needed to transform the set from the original country bar to the later-years punk bar it's famous for," Zdaniewski says, "overnight and back again. For this, I created an almost 'wallpaper' to quickly put up over the 'clean' era set with layered practicals over top to create that realistic depth."
Zdaniewski's authentic interiors will follow English actor Alan Rickman throughout the Unclaimed Freight Productions film as he portrays club founder Hilly Kristal from the early 1970s to CBGB's shuttering in 2006.
View full article here via – SavannahNow.com by Jason Kendall